Creative Art & Illustrations Inspiration – December 2020
---
Check out December's collection of illustrations and mixed media art inspiration. You will love what we have curated this month. Featured artists include Damola Odewumi, Pauline Oderon, Zahra Hashemi and many more talented artists. Check out there work below.
Submitted by Sargis Antonian
There are buildings in my city that I have loved a lot since I was a child and their architectural design has left a certain impression on me. One day, one of my former colleagues wrote to me and said that Yerevan City Hall officials had seen one of my cover illustrations made for the "evnmag" (Yerevan City magazine) and they liked it very much. They had asked me to draw a city scene in the same style. Since those buildings were located in different parts of my city, I decided to paint a scene where they would all be in one place, so it turned out to be a picture of a district. In the end, my painting turned to be a banner, which is designed to cover parts of the construction work in Yerevan.
Submitted by Damola Odewumi
I am Somibo Damola Odewumi, an eighteen years old artist living in Osun, Nigeria. My love for drawing started when I was eight years old. Art has been something I love very much. It's a great part of me that can't be taken away. I started photography in September, 2020. The flower in the collection is one of my shot. These are my drawings and one of my photographs.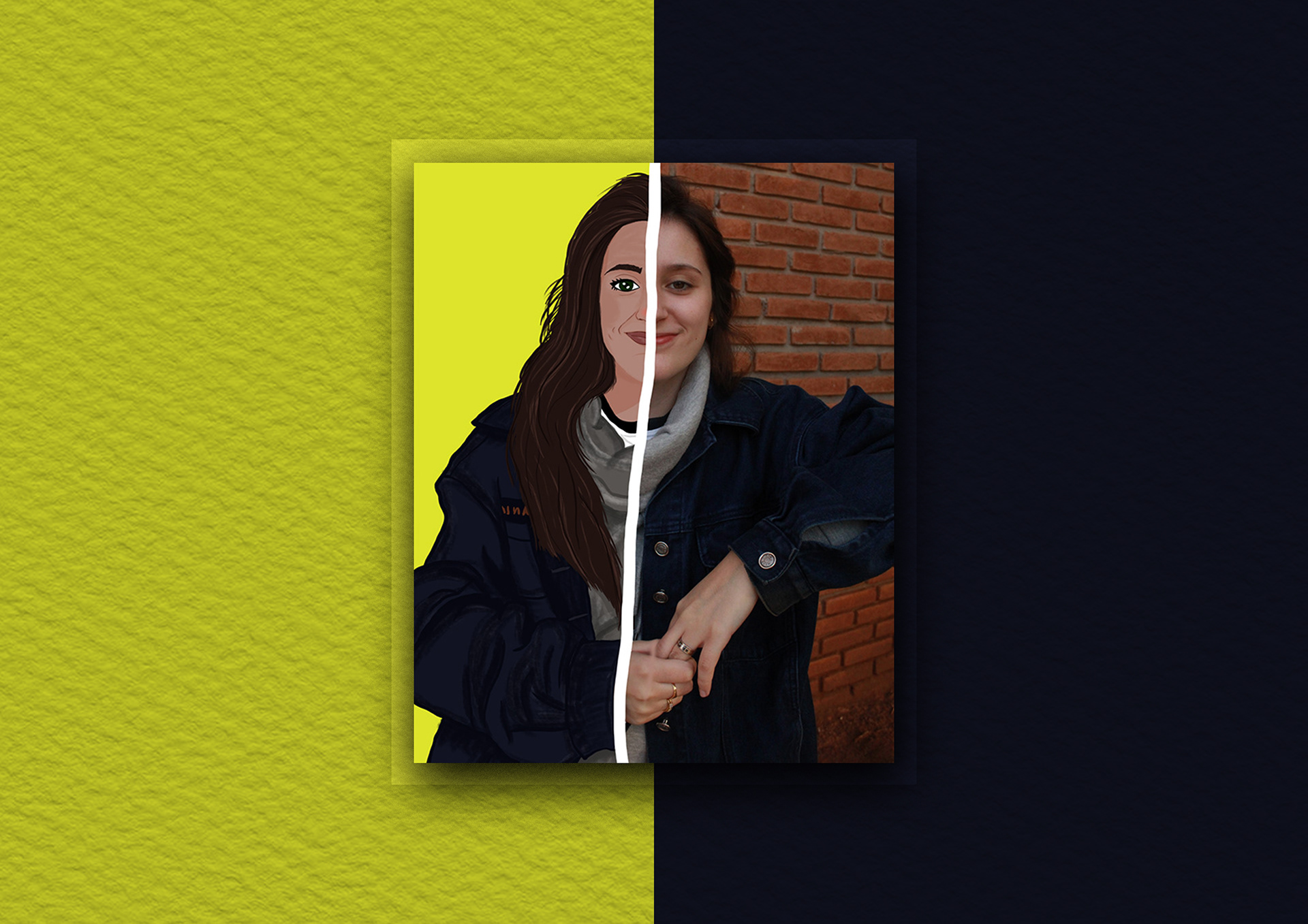 Submitted by Lívia Renzo
Submitted by Andrea Bojkovska
Andrea Bojkovska /@andrea_iris/ is a Macedonian illustrator based both in Ljubljana (SLO) and Skopje (MKD). Currently she is working as a freelancer for various clients and for NDP (Book publishing agency, US).
Her style is eye-catching and memorable because of her use of bold colour palette and rich textures. Her greatest skill (and constant challenge and inspiration) is to portray ideas in metaphoric and interesting concepts.
These qualities are a must for all the fresh brands, publications and advertising.
​Contact her for work in any of the fields: editorial / books and book covers / posters / advertising / packaging / website, branding graphics / murals.
Submitted by Maciej Wołosz
I graduated in Graphic Design on the Katowice Institute of Information Technologies, and achieved master's degree in Graphic design on Academy of Fine Arts in Katowice, Poland.
I specialize in imaginative, bold and colorful cartoony illustrations, I love pushing the boundaries of character designs, try to go for outlandish and memorable expressions. I also draw comics and illustrations i draw my webcomic imaginary moth that is being posted regularly on Instagram and webtoon portal as well as on my side project blue trombone that is a series of drawings about sadness and depression when I'm not drawing commercial illustrations I'm working on comics.
Submitted by Diego Estebo
A esmorga is one of the most important books in Galicia (northwest of Spain), both for its use of the language and for its subject matter, it sets the beginning of modern Galician literature.
Censored during the Franco dictatorship, the novel was published for the first time in Argentina, in 1959. It was not until 1970 when, with some paragraphs removed, it was published in Galicia. Now, on the 50th anniversary of that first Galician edition, the full text is published together with my illustrations.
My intention has been to reflect the viscerality of a text that addresses issues such as mental illness, alcoholism or police abuse at the end of the 19th century.
Submitted by Deniz Oduncu 
An illustration of the connection between fairies and flying creatures living in this fantastic land.

Submiteed by Kirsty Cresswell
I'm a Fine Artist from England. I love to explore colour, form, nature and animals. I love to explore different techniques and subjects, making every piece unique and authentic. 
Submitted by Jack Gibney
I am an aspiring video game concept artist currently in my second year at Plymouth College of Art studying BA (hons) Game Arts;  my current self directed project I am working  on is titled Ink Splash where I am creating character concepts focusing purely on the line aspect and correct anatomical proportions of these characters. This self directed work supplements the projects I am working upon for my degree.
I am interested in history especially periods such as the medieval times so expect to see some of these themed pieces in my future work. Thankyou for reading , and I hope you like my work : )
Submitted by Melissa Showers
I am inspired & passionate about human rights, BLM, LGBTQ+IA, body positivity & interior design. My all-inclusive art empowers humans to be their best selves!
Submitted by Pauline Oderon
Statement of Art:
As a surreal contemporary artist, my perspective in art comes in different forms and identities. Each of my pieces define the identity of a person, leading to a story that can foretell their mysteries in life. Sometimes, my artwork leaves a question of "Why?" and "How?". I want to tell them that my artworks can make them justify their own free will by explaining the story behind my pieces from their very own perspectives. Artistry is about living the reality and exploring outside it. It should communicate your soul to the world and to people. It should create noise in mind asking why some matters needed answers because creativity doesn't stop with just a paint brush and a canvas. Artistry is being defined as a tool of empowerment and motivation. An emotion that is stuck for ages can be released in a single painting or several film reel. Through this methodology, the emotion can be converted to history. People can remember the pain, happiness and even numbness but they can also forget the details of what went through it. My artworks deceives this and leaves the question "Why?" and "How?". On the other end of these stories, I can simply explain to them that whatever comes to their mind will be the story of my work.
In designing, they key element I believe in consistency. Everything moves on space and line, but it can create organization of thoughts and identity through consistency. My perspectives in design were based from the realism of the industry. The client's justification will always be the end product and as a designer, you are there to aid their need for satisfaction and justification. As designers, we have to cure them and their business needs. We transact to them because they need foundations and branding is an absolute way of building it. In the field of design and marketing, consistency to visual identity should never be left out. Design comes in every form and positioning, but it needs to be identified by the target audience and respective client who decides for it. Designs need to speak, breathe and most especially, hear the needs of those who bears for it. It's a movement, a propaganda for a change – whether it is political, commercial or environmental. Design is a powerful tool that could change every perspective in the world.
Both design and art move in different phase but same positioning. As people wanted change and voice in their mission-visions, they need proper execution and orientation. Just like us people who also is an artwork for action and a design for voice, we need proper guidelines and motivation on striving to what drives us go further from our goals. Design and art can change the perspective of a person but the person itself can direct the design and artistry on making the possibilities of results even better and world changing.
Submitted by Pamela Hoo
A illustration of Osoro Shidesu from Yandere Simulator after having a street fight in the alleyway.Osoro, despite not being in the game yet, is my favorite rival. I am excited of what Yandere Dev has planned for her. What I liked about Osoro is that she displays a tough exterior, yet she has a soft spot for Taro Yamada (Senpai). I don't what more since she isn't in the game yet.
Submitted by Meiahn KriziaCatalon
"Less Talking, More Doing" is a personal project I made to make an inspiration and expression of my passion.
As an introvert, I've always been misunderstood. There are some things I can't express perfectly through verbal, but the ideas are abundantly flowing in my mind. Art has been a wonderful place for me to express my thoughts. The lesser I talk, the more doing I've got, and it is understood and appreciated more.
Submitted by Charlotte Grieves
This Illustrations are a brief reflection of what art means timeless and universal language.
Submitted by Mica Villanueva
Hello! I am currently working as an illustrator and layout artist in a publishing company. I also love doing portrait sketches and book illustrations as my sideline job.
For collaborations, you can email me at collab.mica@gmail.com
Submitted by Nesjoy
I am a freelance creator from Hong Kong✍️
I am good at using marker pens, water pen, highlighters, lacquer pens, ball pens to create illustrations✍️
Then output jpeg and use photoshop to add a lot of filters and saturation processing, and produce different versions.
Submitted by Zahra Hashemi
Submitted by Nadia Azavedo
I am from India and an illustrator by profession and creator of Little Scrawny Dweeb comics. I specialize in kid's books and also love creating art that can be used for the purpose of merchandising. In my opinion, art is no longer just something to just be hung on a gallery wall with restricted accessibility, it is in the things we own and the media we consume,  and the way we express ourselves. I firmly believe that everyone, regardless of who they are, deserves to own art in some form or another, and this is the main driving force in what I do. The themes I like to work with are inspired by literature, meme culture, music, space, and nature to name a few.
Submitted by Armita Zollanvari
I just wanna show that a person is Much more than a face so that's why I don't show faces with details?!
---
Do you like this article? Support our blog with a small donation.
We keep our contents authentic and free from third party ad placements. Your continued support indeed can help us keep going and growing. By making a small donation would mean we can pay for web maintenance, hosting, content creation and marketing costs for the YDJ Blog. Thank you so much!
---