30+ Best Modern Fonts That'll Look Amazing in Your Design Projects (2023)
Disclosure: This post may contain affiliate links. We get a commission if you decide to make a purchase through our links, at no cost to you. You can read more about our affiliate disclosure in our privacy policy.
---
We've got you covered here, if you're looking for the latest fonts for your design projects.
The following list of modern fonts include rounded, retro, serif, and sans serif typefaces that have been hand-picked based on what is currently popular and are among designers' favourites.
Also included are some examples of how best to use the fonts in various design collaterals…and some awesomely cool free fonts too!
We will continue to add new fonts to this list as they become available.
What fonts are popular or trending right now?
Best Free Modern Fonts
---
What fonts are popular or trending right now?
Joyride is a dynamic sans serif typeface with extended width variations. There are 16 fonts in the family, all with different weights and styles and over 300 alternate glyphs – all customizable.
Inspired by swirling abstract pattern, the Narnia typeface has a retro, bold and playful look & feel. Perfect if your project needs a little bit of levity!
Silver Queen typeface will give your design a luxury and vintage feel. The font family comes in 6 weights and includes alternate glyphs, ligatures, and multilingual support. It's a very adaptable font that will look stunning in both large and small sizes.
Silver Queen is ideal for branding projects, product packaging, lifestyle or fashion magazine headers, or as a stylish text overlay to any background image.
Need to create a minimalist & elegant design style? The Ginger typeface will give your branding project a modern, stylish and unique identity.
This font bundle is also ideal for creating monogram or letterform logos. Just give it a try.
Dreamland is an eclectic sans serif font with hints of nostalgia mixed with avant-garde curves. The designers drew inspiration from various styles and eras to create this modern typeface.
Vineyard is an ornate serif font with a lot of personality. Vineyard has a classic look, like vines in a vineyard, beautiful curves flow through the typeface.
Vineyar serif is ideal for creating a memorable logomark, headline, or invitation cards. You can use its ligatures in Adobe apps and Canva.
Augify Display is a stylish serif with a distinctive letterform. You can experiment with its many lovely ligatures to customize it for your projects – whether it's a catchy headline, tagline, or anything else.
Augify Display is perfect for use in any types of branding or advertising project, especially if you need a minimalist yet sophisticated look!
Angelica Rytes is a realistic handwritten font created to invoke a romantic feel. The type family includes a full set of beautiful handwritten upper and lower-case letters, numbers, assorted punctuation marks and bindings.
It's ideal for creating signature logos and watermarks for photography studios, wedding invitations, quotes, fashion, and good for initial logo or brand signatures.
This is version 3.0 of TT Norms® Pro – a geometric sans serif font family that's ideal for use in headlines and lengthy text arrays.
TT Norms® Pro will also look great when combined with other typefaces in your UX/UI design projects or branding collaterals. There are over 216 different languages supported.
Also available:
TT Espina is an antiqua display font with expressive serifs. The designers created this modern typeface with high contrast between horizontals and verticals based on the historical shape of the letter "O", which took on a diamond shape due to print quality.
The narrow characters lend a unique aesthetic to materials designed with the font. TT Espina is suitable for headings and text typesetting in web, print, and packaging design.
This is the expanded version of the TT Commons™️ Pro font family – a geometric sans serif that's one of TypeType Studio's most sought-after fonts.
This font family is well-known for its universality, large character set (supporting over 275 languages), and functional set of OpenType features.
Looking for a modern rounded font? Then you'll love the TT Rounds Neue. This is the updated version of the TT Rounds font family.
This improved version has softer texture and includes additional extended Latin and Cyrillic characters and updated kerning and hinting.
TT Rounds Neue font is perfect for adorning baby food and eco-products. The font family has 3 subfamilies available: Compressed, Condensed, and Normal.
The TT Interphases Pro sans serif font has been upgraded to give it an even more relevant look. You will notice smooth forms of roundings repeated across all elements, which makes vast text arrays easy and enjoyable to read.
What's more, the glyphs and the squared shapes of the rounded characters keep the typeface comfortably readable even in smaller sizes.
TT Smalls has evolved into a colourful and expressive font. It can be used to create expressive headlines, in packaging design, or as highlight text on a website.
The inline version of the typeface comprises just uppercase characters, and the glyph designs are based on a geometric sans serif. The number of strokes in the typeface increases or decreases as the weight is increased or decreased.
Why not give it a try.
TT Hoves Pro is a font family that belongs to the same trilogy as TT Norms® and TT Commons.
However, in TT Hoves Pro, the designers have increased the character set and enhanced the look of its terminals, ascenders, and descenders. They've also redone the italics, and added a new variable font.
TT Hoves Pro still has a distinct pattern and geometry with no discernible contrast, and all terminals are on the same level. The triangular characters contain wide horizontal strokes, giving them the distinctive appearance.
Palmore is a condensed vintage retro font with rounded and proportional letterforms. The font's strong rhythm is created by the combination of condensed glyphs with large-rounded "O" and "C".
If you like classic or vintage letter designs, why not explore the uniqueness of this typeface. There are over 300 glyphs (including variant and multilingual characters) available.
Mont is a geometric sans serif and includes a wide range of OpenType features, such as tabular figures and advanced typographic features like ligatures, fractions and case-sensitive forms.
If you need bold design, Mont's versatility will look great in web, print and in motion graphics.
Crake is a modern, high-contrast serif typeface with strong geometric shapes, combined with organic details.
Headlines and short to medium-length texts benefit most from Crake's large x-height. It's the ideal typeface for a variety of uses, including branding, editorial design, publications, social media, and more!
Gracie is a serif typeface that has a contemporary yet classic look.
This font is ideal for an elegant and opulent logo, book or movie title design, fashion brands, magazine, clothing, lettering, and quotes.
Yet another modern serif font with a distinctive style & contemporary appearance is the CHAVTER Typeface. This font, in our opinion, is a little edgier than the Gracie Typeface.
So if you're looking to design for high-end logos, titles for books or films, luxury fashion brands and magazines, Chavter will make your designs look… edgy!
A beautiful and subtly elegant font, Myglaos is ideal for creating minimalist branding. There are numerous ligatures in this typeface. So add this font family to your collection.
Celine Peach is a combination of an elegant sans serif font and a beautiful handwritten script font, based on real handwriting expression.
This font family is ideal for fashion brand, online shops, wedding boutiques, and any other business brands that need to appear upscale and chic.
It is also suitable for any arts & craft projects, if you want them to look pretty and trendy!
Hugolers makes for an ideal text overlay for any backdrop image, whether it be for journalistic projects, logo design, clothing branding, product packaging, magazine headings, or simply as a classy text overlay.
This modern serif font family includes alternate characters, ligatures, and multilingual support.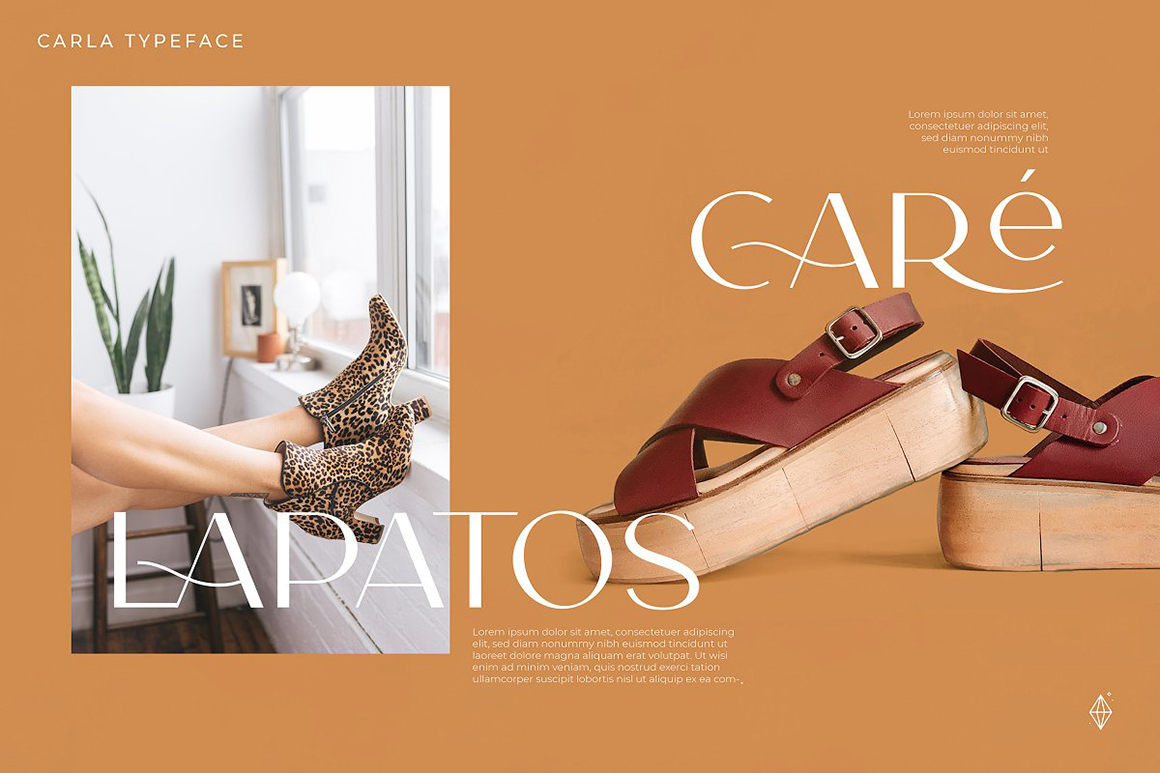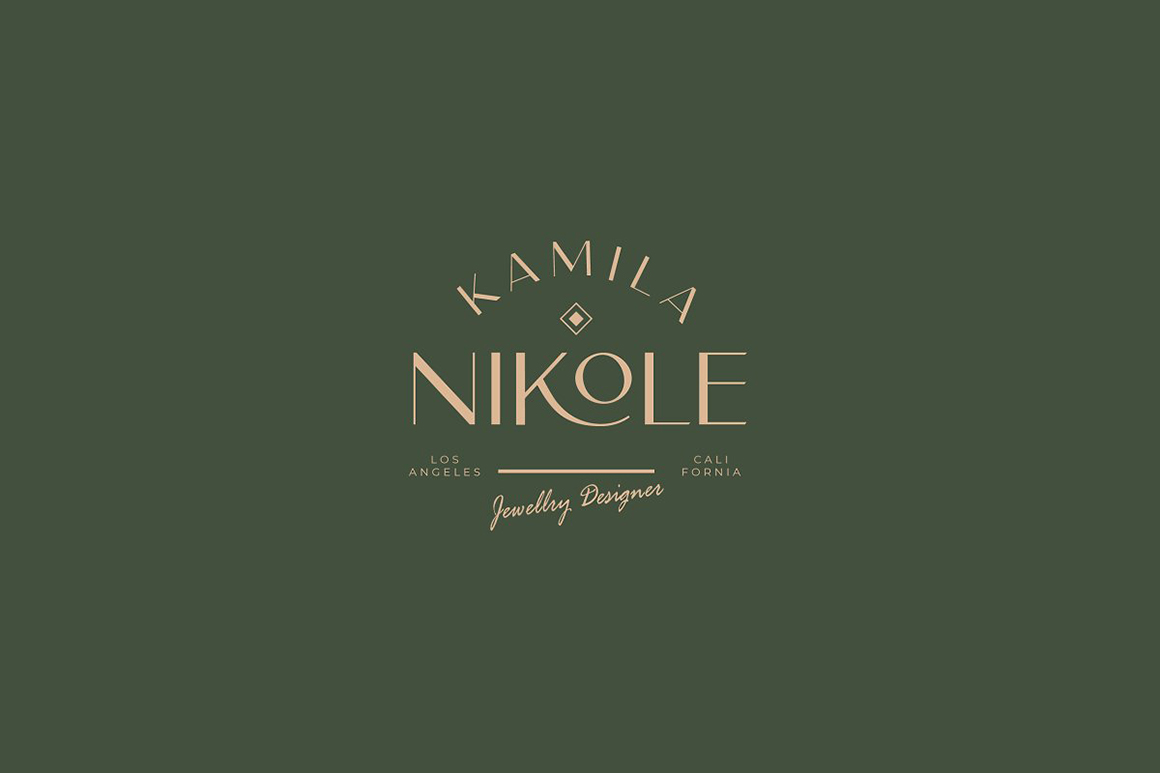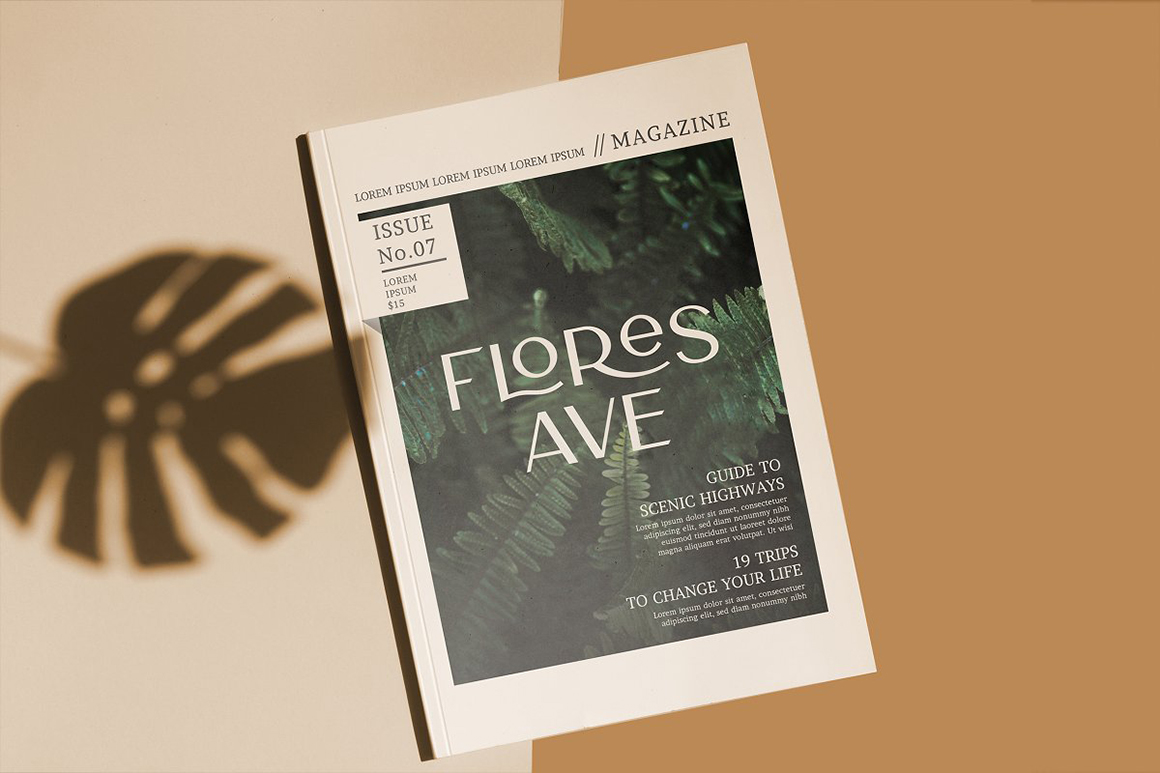 Carla Sans is a highly adaptable minimalist font that works well in clothing branding, beauty and eco product packaging, magazine headers, or simply as a stylish text overlay to any background image.
Sofia Pro is a geometric sans serif font that embraces modernism with the harmony of the curves! Its rounded curves and open terminals make this font family elegant, friendly, and of course, modern.
Sofia Pro also has a larger x-height than other fonts, which makes this font highly readable in smaller sizes.
It will be ideal for small-scale applications such as business cards and mobile app designs.
Roller Girl is a bubbly ligature-filled retro font inspired by the 70s. The typeface has easy-going curves and a relaxed look & feel.
The Roller Girl font family has a plethora of ligatures in both upper and lower case that can help you create that eye-catching and retro-style design.
The designers of Dahlia was inspired by the Italian lake posters from the 1910s and the Art Nouveau movement.
Dahlia is a display serif typeface that has unusual curves and refined details, which makes the font unconventional, yet romantic and timeless.
To be as noticeable as possible, the Bold version employs high contrast. Its counter forms are highly expressive, especially the upper cases P, R, K, B, and E, with a touch of Art Nouveau inspiration.
Use it creatively, and it will look stunning as a piece of typography art, in headlines and short to medium-length texts.
Best Free Modern Fonts
1. Work Grotesk
Work Grotesk by Ivan Tsanko is a fancy and refined sans-serif font that will add an air of sophistication to your design. This font is excellent for usage in displays, user interfaces, and advertising.
License: Free for commercial use
2. Magic Prince
Magic Prince is a cool, retro-style display font that will give any of your design project a fresh retro look!
License: Free for personal use
3. Neue World
Neue World is a gorgeous, modern serif font. This font's stunning details will add an exquisite touch to your designs.
4. KN Yuanmo
Created by Kingnam Type Foundry, KN Yuanmo is a Simplified Chinese rounded font that has a bold appearance. This font will look cool in any setting when seen on the street.
5. Bold Summer
Bold Summer is an elegant sans serif display font that is bold and jovial – ideal for all of your summer projects! Use this typeface to convey a warm, joyful atmosphere.
License: Free for personal use
6. Miju Typeface
Miju™ is a Japanese-inspired display font. Its contrasting characters make it both unique, relevant and powerful.
License: Free for personal use
7. Voxel Typeface
Voxel is a display typeface based on a linear grid system and inspired by 1980s computer fonts. Grids serve as the foundation for this typeface.
License: Free for commercial use
8. LC Sac Typeface
Sac means "beautiful and sharp" in Vietnamese. LC Sac Display is heavily influenced by 4th century Roman square capitals with very sharp serifs. Some modern details were conscientiously developed to magnify its characters.
License: Free for personal and commercial use
Now go ahead and design something awesome!
Whether your next project is designing a brand identiy for your new client, or simply a personal typography art project you've been wanting to do, we hope you like our hand-picked selection of beautiful and trending fonts.
And if you want to proudly showcase or promote your work online, we can make that happen. Simply submit your best work here. Also see more of our featured typography projects collection to get some inspiration.
Thanks for reading and have fun with your design projects!