39 Best Procreate Brushes for Lettering, Sketching and Painting (2023)
Disclosure: This post may contain affiliate links. We get a commission if you decide to make a purchase through our links, at no cost to you. You can read more about our affiliate disclosure in our privacy policy.
---
To help you choose from the many Procreate brushes available, we have carefully selected the best ones that are popular among illustrators, comic artists, typographers, and digital painters.
Our following compiled list will enrich and improve your skills in Procreate. To make the most out of the brushes you plan to install, be sure to check out the video tutorials that are mostly included in the brush sets as well.
Read on to discover more…
Table of Contents
Best Procreate Brushes for Sketching
Best Procreate Brushes for Lettering
Best Procreate Brushes for Painting
---
Best Procreate Brushes for Sketching
1. Line Art Drawing Brushes & Color Swatches by Digi Life
This bundle contains 27 Procreate brushes and 30 color swatches inspired by Sir John Tenniel's art, including hatching liners, stippling patterns, and textures.
2. Pen Drawer by Inky Pixels
Pen Drawer by Inky Pixels were inspired by the physical pen marks made by popular writing utensils. It does have the feel of a real ink pen, and artists praised the ink bleed effect as being incredible!
There are also 12 updated high-resolution texture images included that you can use as backgrounds or overlays for your drawing / lettering work.
3. Bluesssatan by Julia Razumova
Julia Razumova's Bluesssatan brushes are among the creators' favourites. It's comfortable and easy to use with your Apple Pencil.
The textures work wonders for portrait drawings particularly on hair, eyebrows, and eyelashes.
4. The Procreate Office Brush Pack by Ink Gang Boss
This brush pack is inspired by the author's sketching experience using office supplies while waiting for his computer to process large files.
The pack includes nostalgic and authentic office supply sketching tools like mechanical pencil, highlighters, permanent markers, gel pen, ballpoint and fountain pens.
They're good for illustrations, sketching out quick ideas, doodling and more.
5. DizzyTara's Sketch & Ink Brushes
For a smooth and precise drawing experience, you can try these 9 original inking and sketching brushes by DizzyTara. They are:
Brushy Ink
Board Marker
LG Ink 1
LG Ink 2
Oval Ink
Bold Oval Ink
Triangle
Oval Sketch
Brush Pen
6. Pencil Pack by Sadie Lew
21 unique brushes in a range of various pencils and textures are included in this Pencil Pack by Sadie Lew. These brushes were created with real pencil and paper, scanned in at a high quality, and then enhanced in Procreate to achieve the highest level of realism.
This pack also contains 8 colour palettes that are based on actual coloured pencil sets.
7. FineLiner Ink by Inky Pixels
Inky Pixels has given this FineLiner brush set a significant update. The pens have been refined and a solid size 1 graphic pen has been added.
This collection of brushes was made using various types of fineliner pens, which are used for detailed work, monoline drawings, and shading in illustrations.
8. Feels like Pencil by Riveros Illustration
Feels like Pencil were designed by Riveros Illustration to enhance your digital drawing experience and help you make stunning pencil sketches and illustrations.
The 23 custom brushes are meticulously created from real-life scans, and feels like real pencil drawing. They're ideal for drawing gestures, quick sketches, drawing, and even colouring.
You'll also receive 15 free paper textures as an added bonus to further enhance the realism of your drawing!
9. Blink: For Comic and Cartoon Styles by Green Room Media
The BLINK brush set by Green Room Media can effectively boost your comic and cartoon drawings, from initial sketches to inking, colour/rendering and finishing touches!
Although many of the brushes are helpful in a variety of genres, they perform particularly well for comic and cartoon styles.
10. Interior Design Toolkit by Brian Ritter Design
These Interior Design Toolkit by Brian Ritter Design will help you draw interiors more quickly and easily. They are designed for use in scene backgrounds for projects like animations, interior design renderings, and illustrations.
165 furniture and interior element stamp brushes, 15 seamless pattern brushes, 15 room grid stamp brushes, 6 marker brushes, 35 floor plan symbol stamp brushes, and 15 stamp brushes are all part of the Procreate brush collection.
---
Best Procreate Brushes for Lettering
1. CalligraFUN Brushes by Lettering Daily
The CalligraFUN is a collection of custom-made Procreate brushes designed for both beginner and advanced lettering artists.
More than 30 calligraphy brushes are included and this brush pack will help you achieve a variety of calligraphy styles and techniques.
In addition to the brushes, a workbook and a complete set of worksheets are included to help you progress from simple to more complex aspects of brush calligraphy.
If you're just getting started with brush lettering, this brush pack could just be what you're looking for!
2. 12 iPad Brushes by Callie Rian & Co.
These lettering brushes by Callie Rian & Co are ideal for any type of lettering projects and style.
Included in the pack are 13 hand lettering brushes, all designed with a long, lean, pressure-sensitive stroke.
All the brushes are suitable for beginners and can all be scaled to fit your project.
3. Freestyler by Ian Barnard
The Freestyler brush set by Ian Barnard combines a variety of brushes, including outline, 3D, flat, monoline, texture, and pattern giving you distinctive looks with minimal effort.
There is a bonus pack of 10 paper texture brushes, doodle pack of eye and mouth brushes, and color palette included.
Also included, is a comprehensive user manual that will help you advance your lettering creativity to the next level!
4. Watercolor Calligraphy by Molly Suber Thorpe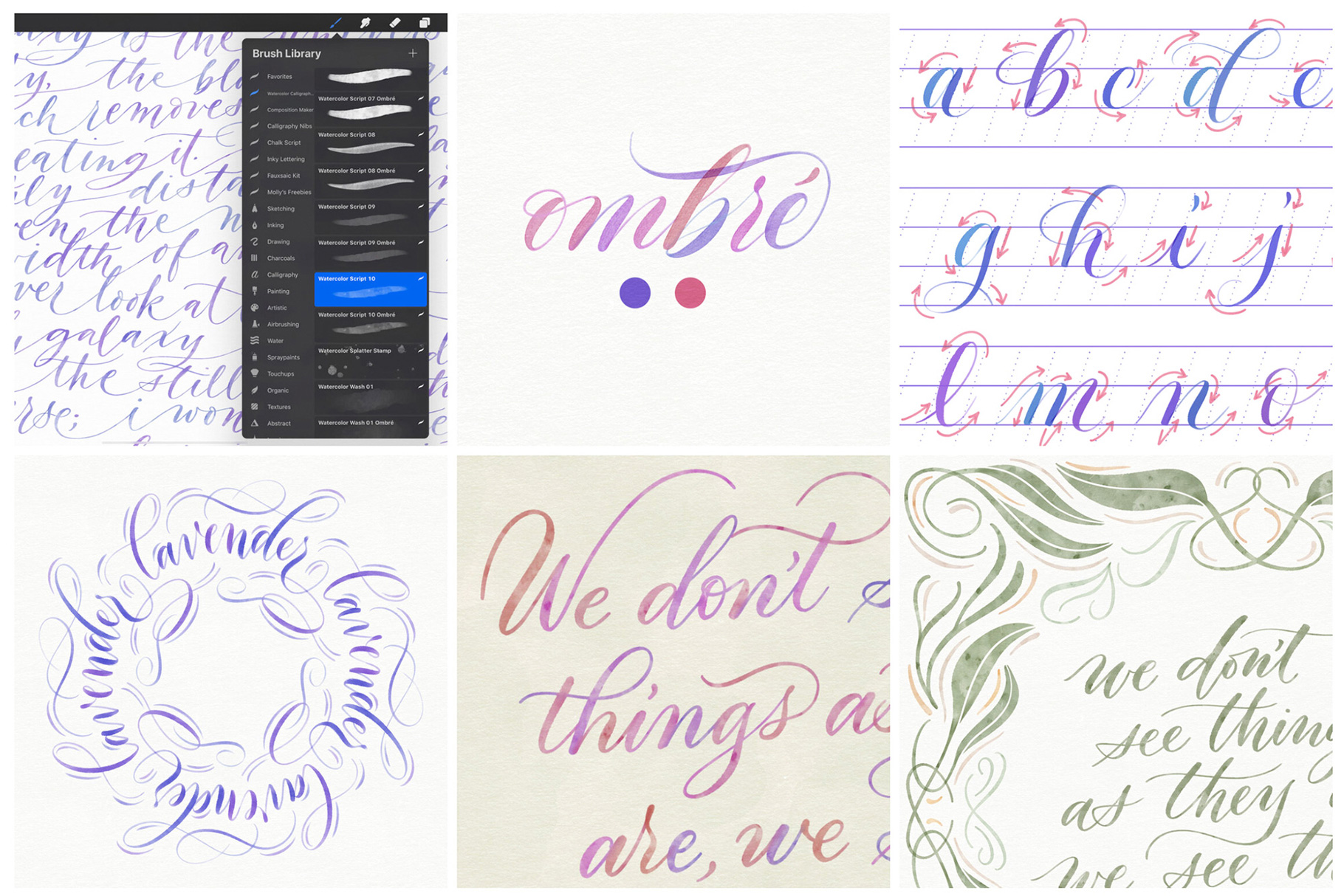 The author created these lettering brushes with realistic watery effects specifically for writing calligraphy. This watercolor calligraphy brush pack features a wide range of paint characteristics, such as bleeding, translucency, colour variation, and pigmentation.
There's also an ombré version of each brush, so you can achieve beautiful colour variations while writing without having to open your swatch palette after each letter.
As an added bonus, a watercolor paper background brush is included to make your lettering look like it was painted on real cotton paper!
This brush pack is compatible with Procreate 5 or later.
5. 3D Brush Bundle by Genevieve's Design Studio
This collection of 3D brushes by Genevieve's Design Studio will help you create 3D stylized designs and lettering quickly, and in every step of the creative process.
The set comes with instructions and step-by-step tutorials to help you get the most out of your new drawing tools.
Additional drawing tutorials are also available on Genevieve's Design Studio's YouTube channel. Be sure to check them out.
6. The KickOff Lettering Toolbox by shoutbam
If you've been writing letters for a while but want to step up your game and learn some new styles, this KickOff Lettering Toolbox will help you with your lettering work and save you time in between!
Everything you need to start learning and practising lettering can be found in this toolbox. Brushes, textures, practise sheets, decorations, fundamental letter theory, and much more are included in this kit.
7. Chalk Dust – Procreate Lettering Kit by Ian Barnard
You can design your own beautiful chalkboard lettering pieces with the Chalk Dust Procreate Lettering Kit also by Ian Barnard. You won't find a more realistic-looking set of brushes for Procreate elsewhere than in this bundle, which was created using actual chalk textures.
Also included in this kit, is a list of tips & tricks that will walk you through how to draw banners, floral motifs, shadows and shadings.
8. Nostalgia Lettering Toolkit by Aurelie Maron
The Nostalgia Lettering Toolkit includes all the tools you need to create a that beautiful 80s or 90s retro and nostalgic lettering piece.
There are 12 drawing brushes, 25 stamp brushes, 20 texture brushes, 9 color palettes, and 8 texture mockups included in this lettering toolkit.
9. Comic Lettering Masterclass by Serkworks Art Lab
ThComic Lettering Masterclass by Serkworks Art Lab contains a masterclass training program, tools, guides, brushes and fonts specifically designed to assist the comic lettering enthusiast and for those who are looking to advance their comic lettering talents.
A thorough, step-by-step guide on hand lettering is also included, along with a wealth of advice on how to present your work professionally. You will also learn how to create logos, master sound effect and word balloons design.
10. Grid Builder – Layout Composer by Ian Barnard
Never before has designing beautiful lettering layouts been so simple!
The Grid Builder Layout Composer will help you arrange, layout and style your words or quotes so othat you can achieve that beautiful lettering design.
This brush set includes a collection of 35 individual grid shapes that you can group together to use as guides when designing lettering layouts. They can be resized, stretched, and coloured to make each layout you create look completely unique.
11. Procreate 34+ Brush Bundle by Mix Fonts
Tired off buying brushes separately? This Procreate 34+ Brush Bundle set by Mix Fonts can accommodate all of your lettering design needs, from lightweight brushes to transparent and pressure-sensitive brushes.
This download will be updated as brushes get added to the catalog.
12. Text Dividers & Enhancers by Lisa Glanz
You will love this all-purpose brush kit by Lisa Glanz. The more than 240 decorative components in this Procreate brush kit will go well in any type of graphic or typography design work.
Also included are meticulously hand-drawn pieces of wreaths, swirly whirlys and text dividers. This kit has both vector and PNG elements giving you the freedom to choose your preferred design format.
13. Brush DK by Calligraphy DK
Brush DK by Calligraphy DK is a collection of sixteen incredibly distinctive watercolour brushes that are perfectly suited for lettering on the iPad.
Also included are 2 DK Worksheets to help you practice your lettering techniques and get the most out of the brushes.
14. 3D Brushes by Nurmiftah
This brush set was created using original 3d graphics and modified so that you can use it to create 3D lettering and illustration works.
The collection includes 60 different brush types, allowing you to create an infinite number of art! There are also additional colour palettes available, and you can use your favourite colour combinations to create even more colourful works.
It is compatible with Procreate 5.2 and earlier versions.
15. Lights by MiksKS
Ligths brush set by MiksKS includes a wonderful variety of lights and glowing effects – ideal for neon sign drawings, create glowing lettering or add special effects like flames or bloom to your illustrations.
You only need to choose a vibrant hue and begin painting because the light effect is "built in".
The set is divided into three categories: Light Pens (for painting or lettering), Flames, and Effects. You may import the four colour palettes or swatches (Neon Colors, Cool & Warm Whites, Retrowave, and Fire) into Procreate and utilise them for your projects.
16. Procreate Design Brush Stamp Kit 2 by Debi Sementelli
The Procreate Design Brush Stamp Kit by Debi Sementelli was created to help you work confidently and efficiently! Each stamp was drawn over the course of hundreds of hours. This pack contains everything you need to give your lettering and design pieces that extra punch!
Follow the detailed step-by-step instructions and Procreate tutorials to create three stunning sample pieces and learn the techniques you'll need to elevate your work.
---
Best Procreate Brushes for Painting
1. Blending Brushes by Art with Flo, Design Cuts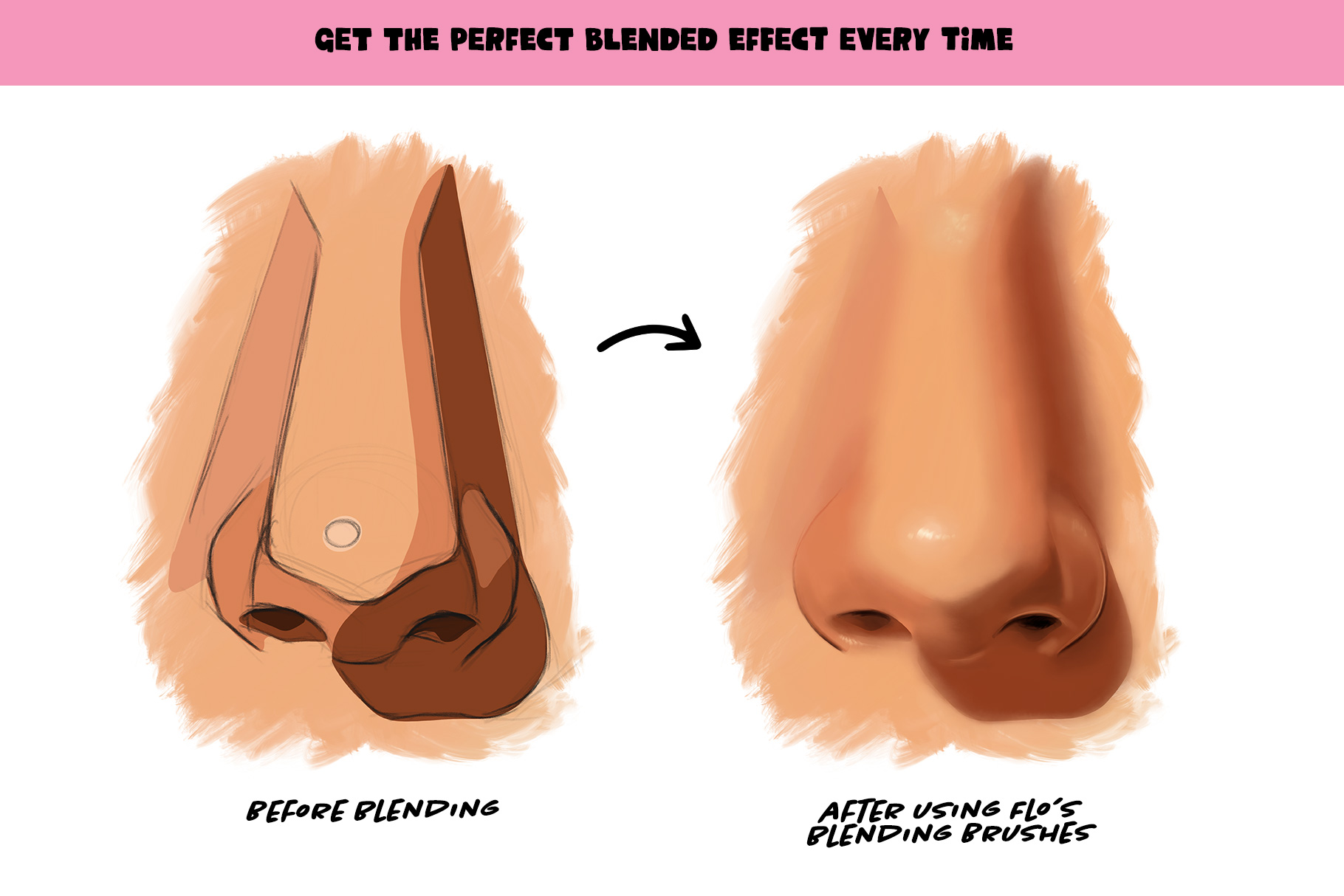 Whether you're a beginner looking to learn the fundamentals of blending or an advanced artist looking to expand your creative capabilities, this brush set can help you achieve smooth and textured blending with ease.
This blending brush pack contains special brushes for use with the smudge tool as well as brushes for use with the painting tool. It includes 10 smudge tool blending brushes, 10 brush tool blending brushes and a special blending workbook.
2. Paint Strokes Stamps by PeDe Designs
The latest collection of hand-painted paint strokes stamps created by PeDe Designs. All of the brushes go well together and suitable for a variety of painting projects.
Just make sure you tweak your Procreate settings when you first use them in order to get the best brush stroke.
3. True Watercolor by BooStudio
This True Watercolor brush set by BooStudio contains everything you need to get started with watercolor painting in Procreate.
The package contains 35 high-quality brushes, 20 watercolor stamps and textured papers to create realistic watercolor art. You will also receive 12 colour palettes and 6 sketches with transparent backgrounds to help you get started painting faster.
4. Oil Brushes by OlgaRom
Oil Brushed by Olga Rom includes everything you need to achieve that realistic oil painting. Each of the brushes are pressure-sensitive and completely simple to use for intuitive painting.
You can work with a variety of traditional oil painting techniques, including blocking in, glazing, alla prima, scumbling, blending, and impasto.
5. The Pastel Pro Pack by Lane Draws
Lane's Pastel Pro Pack is a set of finely tuned brushes for Procreate 5+ that have been designed with beautiful grain for optical blending techniques.
The author created these brushes with a single goal in mind – to combine the pleasing grain of dry media with the fluid blending qualities of paint.
Depending on how you hold the stylus, these digital brush sets can produce a wide range of effects and edge qualities.
6. Watercolor Pro by SC
The Watercolor Pro Set by SC makes it simpler for both experienced and novice watercolor painters to switch from physical to digital painting.
This kit is also suitable for those who have never worked with actual watercolor materials but have instead started creating in the digital realm. Just make sure you have the most recent version of Procreate in order for this set to work correctly (Procreate 5 or higher).
7. Texturizer Pro by Frankentoon Store
Texturizer Pro by Frankentoon Store is a brush pack designed to mimic a variety of real-life textures and give your illustrations more depth.
With any type of art style, this bundle blends seamlessly. If you feel that your artwork is too clean and want to give it a more edgy look, Texturizer Pro adds great effects to your drawings and paintings. You can use it in combination with any other brush pack you currently own.
The presentation video is charming and helpful too.
8. Gouache Brushes by Lisa Glanz
This carefully created realistic gouache brush set by Lisa Glanz features both smooth and textured brushes with a range of brush shapes and opacities, ideal for both modern and vintage gouache paintings.
You will also find the paint-along video tutorial very useful, as it will help you understand which brush to use and when to use it; when creating your own art.
9. Texture brushes by Jenteva Art
This 15-brush textures by Jenteva Art is designed from real brush materials. They are meticulously photographed and edited. They are simple to use and will brighten your artwork.
This texture pack is compatible with all iPad models that run the Procreate app.
10. Vintage Texture Brush Set by Maria Summer
Texture brushes from the past! This is a collection of 14 brushes that mimic vintage textures. The set includes 6 main brushes and 8 bonus brushes.
This kit can be used for a variety sketching to full-fledged texture illustrations. Also, be sure to check out Maria Summer's Instagram to view artworks created by her brushes.
11. Splinters Photoshop & Procreate Stamp Brushes by Struvictory.art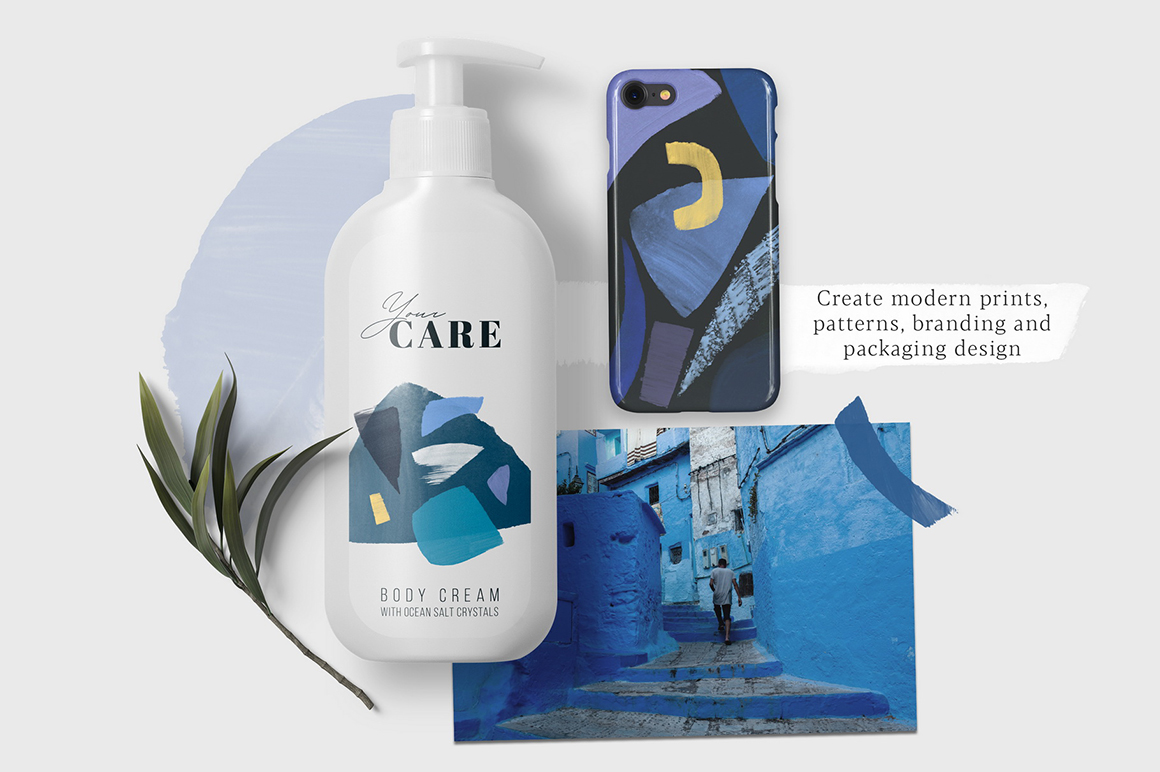 This is a set of 90 abstract stamps in various geometric shapes created with gouache, acrylic, spray, and stencil. Brush size, colour, blending mode, and rotation are all easily adjustable.
You can use them for printing, branding, packaging, modern collages, media templates and mood boards. In a few clicks, you can also create trendy posters in contemporary style for your home's interior.
12. Animal Fur Brushes by Mels Brushes
You can easily create realistic fluffy and fuzzy fur effects with this brush set. Go ahead and create smooth fur, wiry fur, coarse fur, fleece, and many other hairy effects with it.
You can also use these brushes to smudge as well as paint, and build up layer by layer for an even more dramatic effect. To add depth and richness to your work, experiment with layer blends. Overlay is effective too.
13. Dirty Halftones Brush Set by Shoutbam
Halftones, and all the interesting effects you can create with them, are the focus of this brush set by Shoutbam.
The textures were digitally modified to function as seamless patterns using samples taken from actual dirty textures. You can easily add the textures and shadows to give your artwork some scuffed glitz!
Also, do check out the video tutorials to learn how to employ halftone brushes, create whimsical letters and florals, and add offset effects to your artwork.
---