Best Wireless Earbuds Under $100 That Have The Features You Want (2022)
Disclosure: YDJ™ and the YDJ Blog is a participant in the Amazon Services LLC Associates Program, an affiliate advertising program designed to provide a way for websites to earn advertising revenues by advertising and linking to Amazon.com. As an Amazon Associate, we earn from qualifying purchases at no cost to you.
---
The market for truly wireless earbuds has flourished in the nearly five years since Apple debuted the AirPods in the fall of 2016.
While most wireless earbuds are still pricey, you can obtain a good pair from a recognised brand for a reasonable price. We've rounded up best wireless earbuds under $100 that have the features you want.
What are the best earbuds under $100 to buy in 2022?
1. Jabra Elite 3
If you like listening to music with bass while working out in the gym and want to get a pair of wireless earbuds that won't break the bank, the Jabra Elite 3 could be your best choice. The earbuds have noise isolation and delivers clear sound and punchy bass.
The Elite 3 is water-resistant (IP55) and light, definitely suitable to be worn for workouts. The wireless earbuds are equipped with the latest Bluetooth 5.2 technology for fast and stable wireless transmission, giving you uninterrupted calling and music experience. It comes packaged with USB Type-C and Type-A cables and has fast charging feature.
The Jabra App is easy to use and packed with features too. So remember to download the app to make the most of the earbuds.
Features:
•  With Alexa built-in*, Spotify Tap playback*, and Google Fast Pair* (*- Android only)
•  Up to 7 hours of play time per full charge
•  10 minutes fast charging* (*- Android only)
2. Wyze Buds Pro
The Wyze Buds Pro has pretty much a similar design as Apple's AirPods Pro. The Bluetooth pairing supports Google Fast Pair, making it quick and simple to pair the device.
The Buds Pro has transparency mode that that allows you to hear what's going on around you as if you weren't wearing them. It charges wirelessly with Qi-certified wireless chargers, or plug in directly with the USB Type-C cable that comes with it. It's also compatible with iPhone, iPad, and laptops.
The Buds Pro is also compatible with your phone's native smart assistant like Siri, Bixby, or Google Assistant.
Features:
•  40dB active noise cancellation
•  Customize EQ
•  Up to 7 hours of play time per full charge
•  15 minutes fast charging
•  Sweat and weather resistance (IPX5)
3. Sony WF-C500
Sony WF-C500 Wireless Earbuds lacks the premium noise-cancellation and transparency features. However, the ergonomic design makes up for this. The earbuds are small and light, which provides amazing comfort for all-day wear. They are also splash-proof and sweat proof with an IPX4 rating.
The WF-C500 has the Sony immersive 360 Reality Audio. This means you can get to enjoy great sound clarity and audio bass especially while listening to your favorite songs on Apple Music.
Features:
•  Easier, clearer hands-free calling
•  Small & light
•  Ergonomic Surface Design conforms to most ear shapes
•  Up to 10 hour of play time per full charge
4. Anker Soundcore Life P3
What we like most about the Anker Life P3 is the "Find My Headset" feature that comes with the Soundcore app. The app will help you locate your earbuds by emitting a loud noise.
The Life P3 has multi-mode noise cancelling that allows you to switch between modes depending on where you are with the Soundcore app. You can also activate the Gaming feature from the app for a more immersive audio experience. And yes, these true wireless earbuds are equipped with BassUp technology to give you clearer and richer audio.
Features:
•  Casing charges wirelessly
•  Multi-mode noise cancelling
•  Has six microphones for enhanced call performance
•  Up to 8 hours of play time per full charge
5. EarFun Air Pro 2
Many customers who bought the EarFun Air Pro 2 praises the product's great sound quality and the company's exceptional customer service.
The Air Pro 2 is great for Zoom meetings and phone calls as it's noise-cancelling feature makes calls easy to hear and is especially helpful for people who have difficulty in hearing.
Features:
•  Eliminates background noise up to 40dB
•  Bluetooth 5.2 technology
•  Up to 7 hours of play time per full charge
•  The case can be charged via Type-C or a wireless charging pad
•  Sweat & water resistant (IPX5)
6. Creative Outlier Pro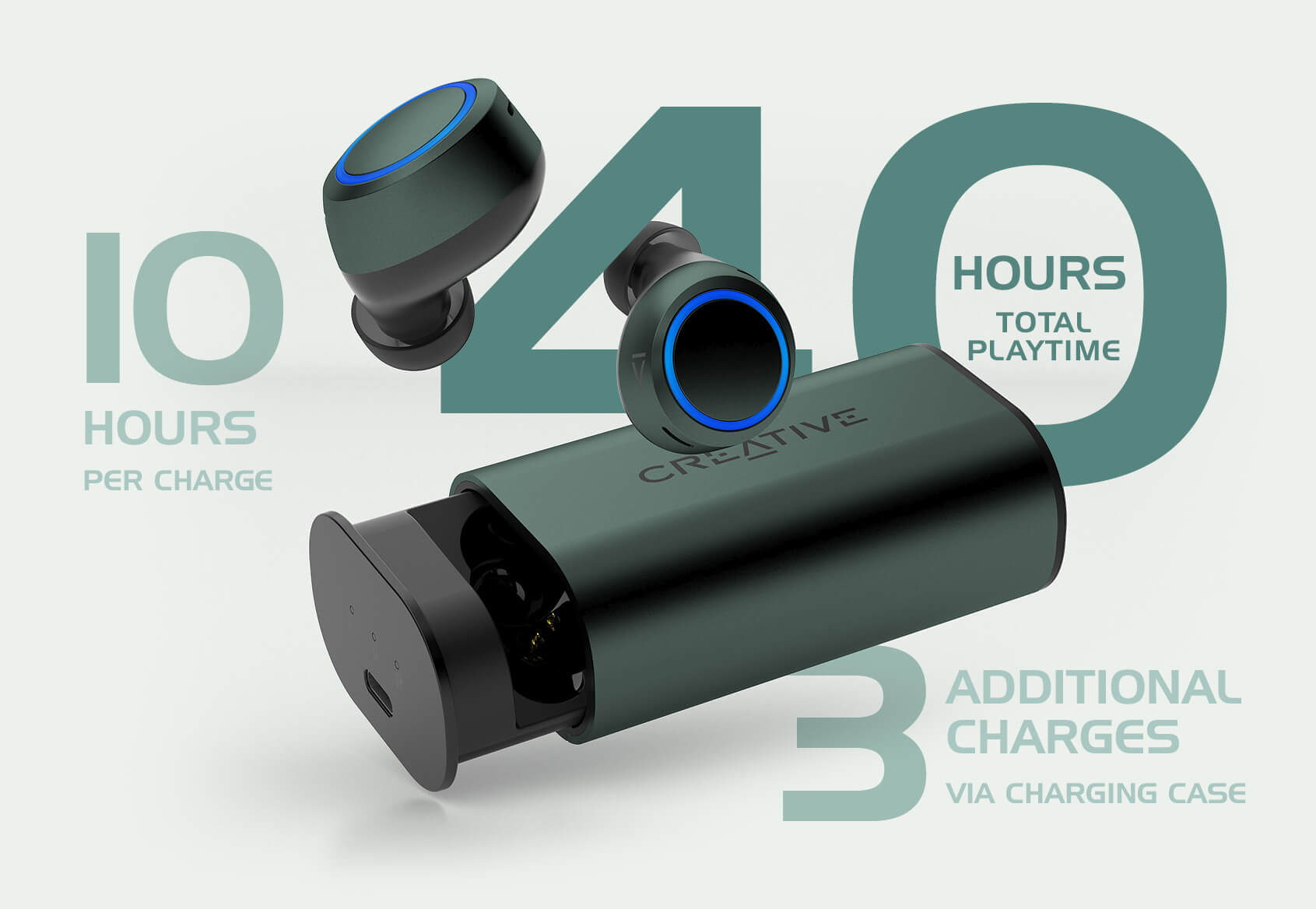 When it comes to great battery life, the Creative Outlier Pro aces it! These true wireless earbuds have up to 9 hours of play time once fully charged. Though the case is rather bulky, it has up to 40 hours of battery life upon full charge that will last you up to a week without needing a charge.
The Outlier Pro also scores outstandingly in sound quality and bass. The sound can get really loud when you crank up the volume, so be warned!
It is among the best budget earbuds out there that's value for money and packed with great sound quality, latest Bluetooth technology and great battery life.
Features:
•  Wireless charging and Qi compatible
•  Bluetooth 5.2 technology
•  Sweat and water-resistant (IPX5)
•  Ambient mode and active noise reduction.
7. Tribit FlyBuds 3
If you travel or frequent the gym a lot, then the Tribit Flybuds 3S could be your ideal companion. These earbuds are sweat and waterproof with an amazing IPX8 rated protection! This means these earbuds could withstand continous immersion in water.
Most customers love that the Flybuds 3S fits comfortably in their ears, are not painful and won't slip while wearing them on the go.
We also love that the charging case functions as a power bank to charge your phone. It comes in handy while you're travelling as you don't need to carry additional chargers for your mobile devices. The charger has an amazing 150 hours of battery life and the earbuds get up to 8 hours of play time per full charge.
Yet another budget true wireless earbuds we love!
Features:
•  Bluetooth 5.2 technology
•  Call noise cancellation
•  2600mAh charging case
8. Belkin Soundform Rise
If you're worried about earbuds falling off while jogging, you don't have to with the Belkin Soundform Rise wireless earbuds. They are a perfect companion for outdoor enthusiasts to enjoy activities like jogging, hiking, exercising…and listening to music.
Other features most customers love about this Belkin wireless earbuds are it's exceptional battery life (7 hours of playtime per full charge, 24 hours of additional power in the case), and smooth media streaming experience. The sound quality of these earbuds is also not excessively loud.
Features:
•  Bluetooth 5.2 technology
•  Wireless charging case
•  Sweat & water resistant (IPX5)
These are our top pick of the best true wireless earbuds in 2022 based on our extensive product review and research. We hope you have found this article informative.
Do you have a favorite from our recommended list? Please post your suggestions in the comment box below.
Thanks for reading!
Audio technology resources
---
Disclosure: This post may contain affiliate links. You can read more about our affiliate disclosure in our privacy policy.