Best Office Pods For Home Use And Remote Work
Disclosure: This post may contain affiliate links. We get a commission if you decide to make a purchase through our links, at no cost to you. You can read more about our affiliate disclosure in our privacy policy.
---
updated September 23, 2022.
Do you work from home? If so, you know that it can be difficult to stay focused when there are so many distractions around. If you're looking to setup a designated space for working and prefer one that is separate from the rest of your home, an office pod will be a great option.
Office pods are becoming increasingly popular among remote workers these days and as a way to block out distractions so that they can be creative and stay focused when WFH. Even YouTubers use office pods as a home studio for vlogging.
There are a variety of office pods available on the market, and it can be difficult to decide which one is best for you. In this blog post, we'll discuss about the features, costs and show you some of the best office pods for home use so that you can make an informed decision about which one will work best for you.
---
Table of contents
1. How much does a home office pod cost?
2. Best outdoor office pods
3. Do you need a building permit for backyard/outdoor office?
4. Best indoor office pods
5. Phone booth types
---
How much does a home office pod cost?
Prices for home office pods can vary greatly, depending on the size and features of the unit. Some smaller, more basic models available can cost around $3,000 to $8,000. While the more high-end and larger units can cost around $25,000 – $30,000.
It's important to establish a budget and to think about what features of an office pod that you really need. Consider also how much space is available in your home to place the unit.
The office pod brands we recommended here do offer flexible financing options so that you can have to best of both worlds – the best office pod made affordable for you.
Best outdoor office pods
YARDADU Outdoor Backyard Prefab Home Office – Zen Office
Available in the US, the YARDADU Zen Office is a backyard office pod that comes with a lounge, has great insulation, sound and waterproof features.
Other features include:
Available in white, black, yellow and red
104 sq ft, 13 ft x 8 ft with lounge (LxWxH)
Backyard office production time is 8-12 weeks
YARDADU Prefab Backyard Office Shed Pod
The YARDADU Backyard Office Shed Pod has a more modern and sleek design, with about 16 feet (4.88 meters) of extra space. This model is ready to use as it requires no assembly.
Other features include:
120 sq t. 16.6 ft x 7.4 ft with lounge (LxWxH)
Sound & waterproof
Backyard office production time is 8-12 weeks
Fancy a small cabin? The Allwood Estelle cabin kit can be used as a home office, an art studio, or even a guest house. With double glass doors and large windows, this unit provides plenty of natural light. The cabin requires assembly but comes with a five year warranty from the manufacturer.
In most places, you won't need a permit where the permission exempt limit is 100 sqft. However, we urge that you double-check this with your local building authorities before placing an order.
Other features include:
Unique divided space layout
1-9/16″ (40 mm) dual T&G windblock pattern
Height overall: 7'10" (2.16 meters) – Height of walls: 6'9″
Windows: (1) 50-3/4″ x 39″ – tilt & turn
This modern design Allwood Solvalla is a cabin kit that you will enjoy having in your backyard. The cabin spans 172 sqft. with 86 sqft. covered, making it ideal for use as a studio, home office, or even a recreation area.
Again, we urge that you double-check with your local building authorities if there's a need to apply for building permit before placing an order .
Other features include:
Made from high quality Nordic wood
Assembly takes 2-3 full days for two handy adults
Except for the roof shingles and foundation materials, this item contains all parts and accessories.
Hello Wood Workstation Cabin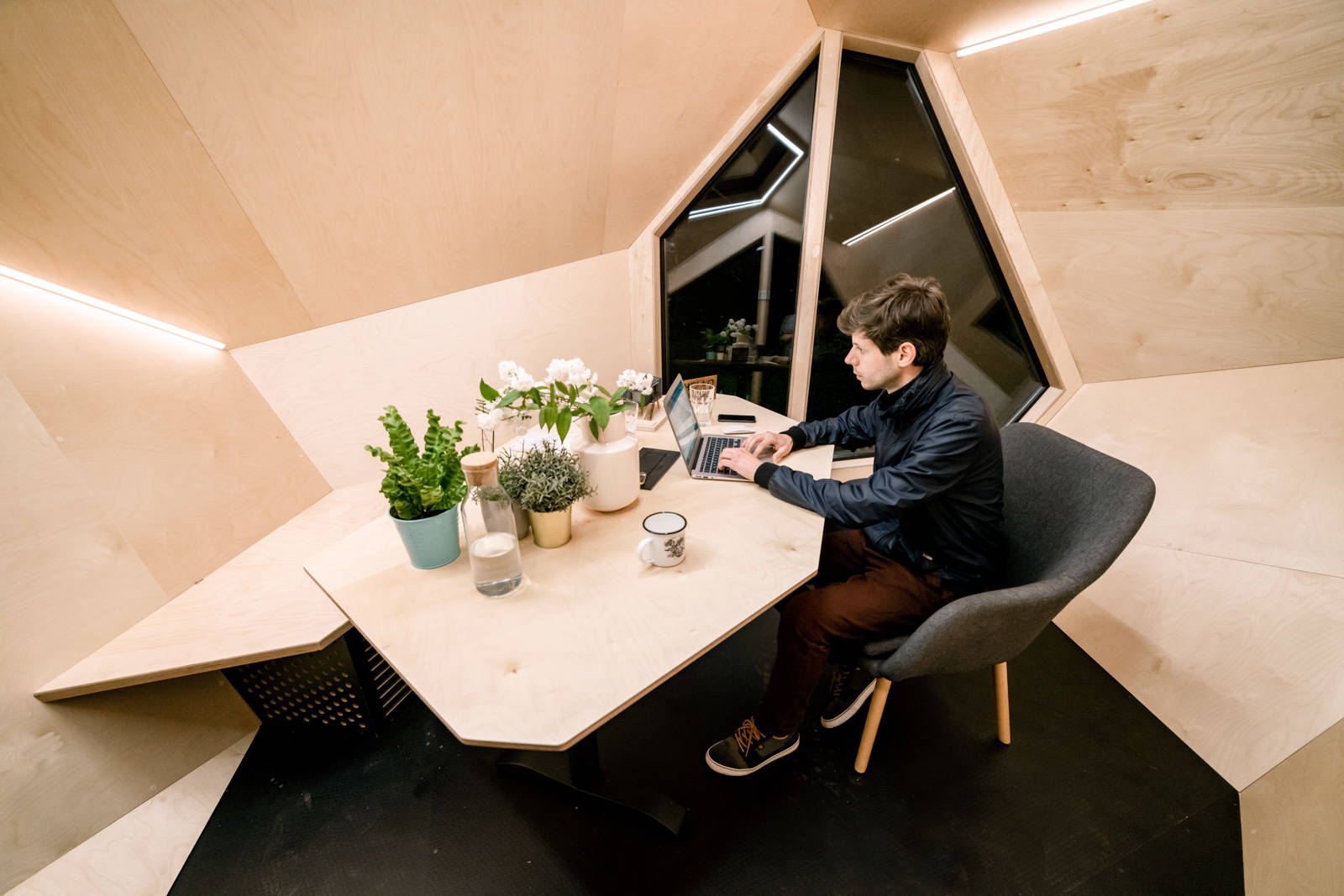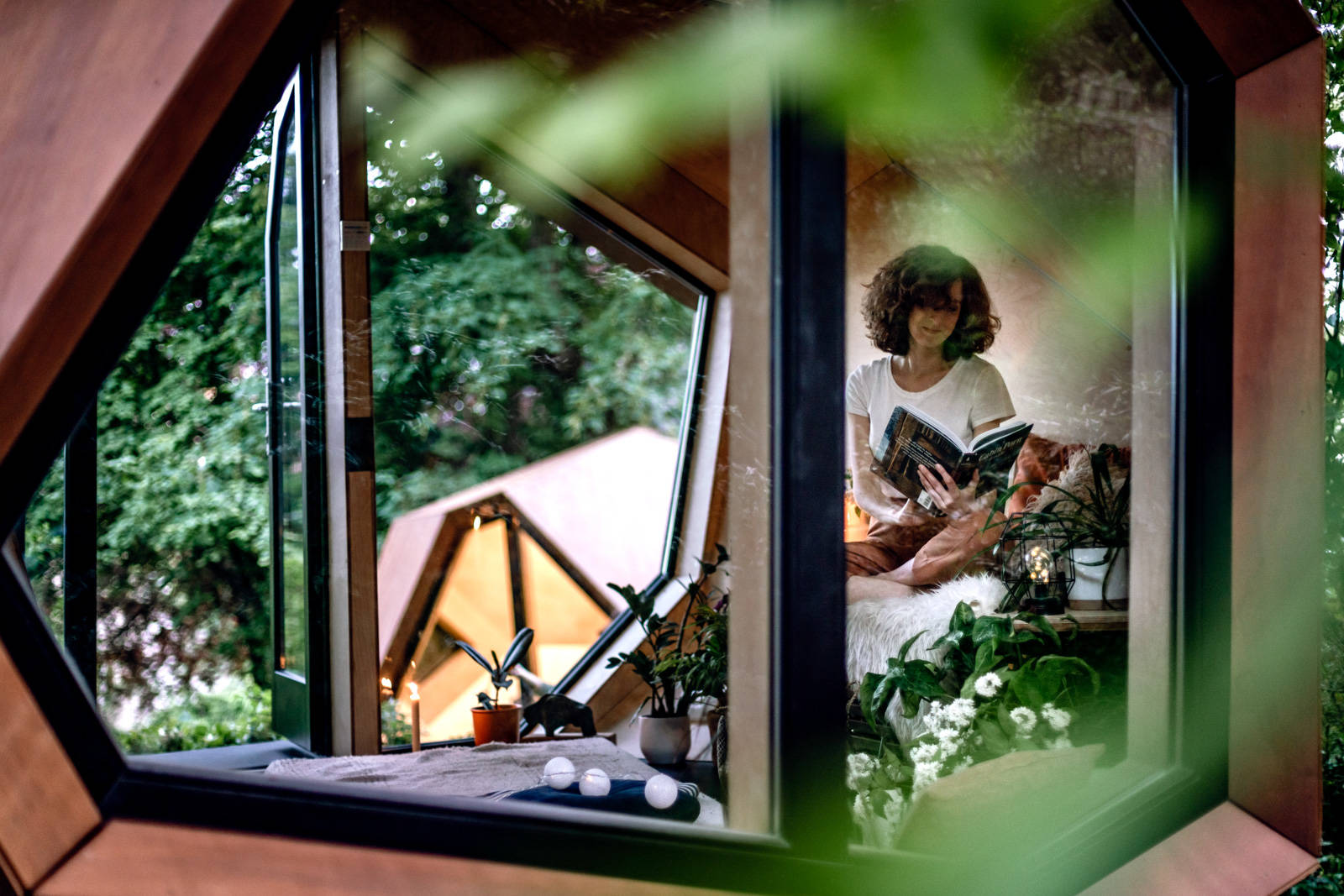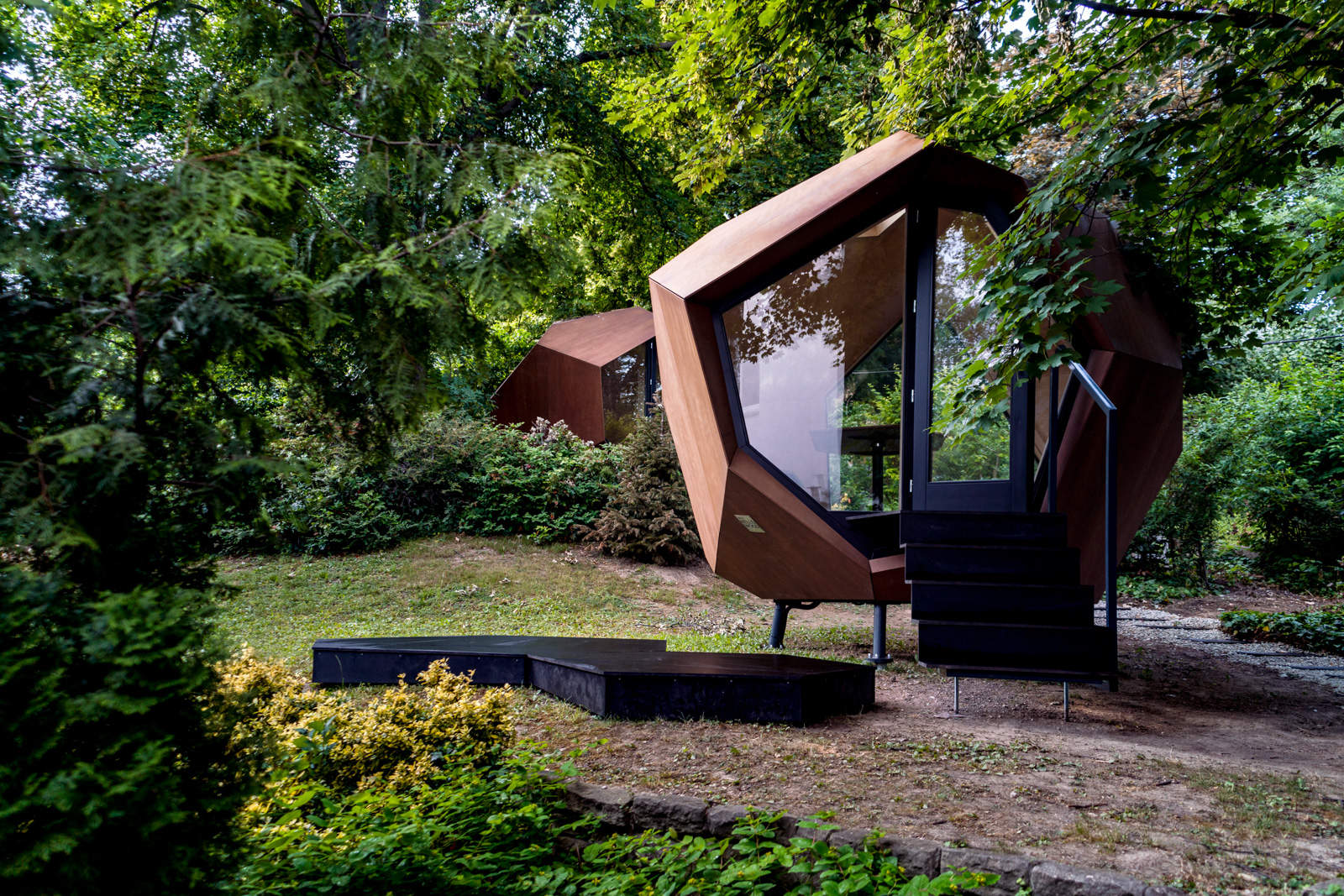 The Workstation Cabin by Hello Wood, a Hungarian architecture studio functions more than just a backyard workpod. This unique geometric shaped pod/cabin can accomodate up to 6 person and can be used as a private meeting room, a cool home office space, a kid's playroom and or place for you to unwind without leaving your backyard.
The wood panelling of the Workstation Cabin can be seen throughout the warm room, and the large windows allow natural light to stream in. It comes fully assembled, with a built-in bench and an electrical outlet.
Other features include:
External height (with legs): 3.60m (3.25m +, 0.35 m)
Interior area: 8m²
Internal height: 2.6m
Insulated and sound proof
View the Hello Wood Workstation Cabin
The OfficePOD
The OfficePOD is from the UK. This is yet another uniquely designed office pod that can be placed in either outdoor or inside of buildings.
The OfficePOD is robust and can be easily dismantled, relocated or refitted time and time again. It is spacious and perfect for home or business use.
Other features include:
Fully furnished and equipped
Can be placed anywhere – no foundations required
Unique sound system
Do you need a building permit for an outdoor or backyard office?
According to the majority of council laws, you don't need a building permit until your home office shed reaches 100 – 120 sqft. in area. We'd advice that you always double-check with your local authorities before building your office shed; otherwise, you will have to pay for extra liabilities and expenses.
---
Best indoor office pods
Nook Huddle
The Nook Huddle is a quiet meeting and work pod where you can do productive work in a room within a room.
It has acoustic panels, a roof, a power station for quick device charging, user-adjustable lighting for a personalised lighting experience, and upper back whiteboard panels that can be written on from either side for more privacy.
Other features include:
Fully furnished and equipped
Comes with removable benches and a table
Extra storage space beneath the benches and a small shelf above the desk
Heavy-duty lockable casters – makes it easy to move the Nook, while keeping it firmly in place as needed.
The Focus Room by ROOM
The Focus Room is a flexible office pod that can be placed in any room. The best thing about this pod is it's sustainably engineered and gives you everything you need so that you can stay focused and productive in a private and comfortable space.
The Pro Office Pod is available in two models – Standard and Pro. Both the models are equipped with a work desk and built-in power units, among other things.
Other features include:
Skylights
Accessory rail
Soundproof
Integrated three-fan ventilation system
Hush Work Pod by My Office Pods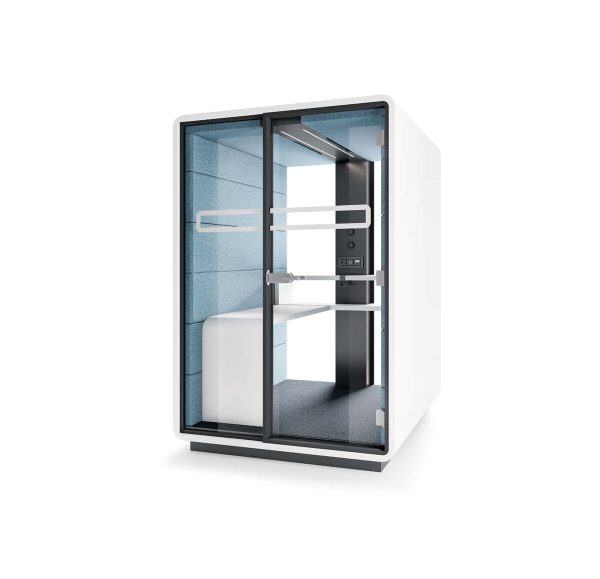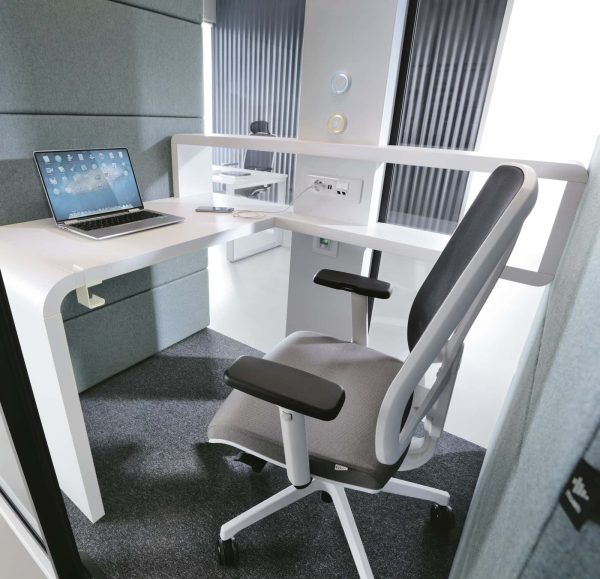 The Hush Work Pod comes with a built-in desk and shelving area for your laptops and other working materials.
The pod can be dismantled and reassembled, making it flexible to be moved around in indoor spaces or relocate to other places.
Other features include:
1600w x 2400h x 1200d mm (1 seat)
Power unit – USB port mounted in the central column
Air circulation system and motion sensing light included
---
Phone booth style pods
Nook Pro Solo
Phone booth style office pods are ideal for one person use and because of it's space-saving feature and design, it can fit into any room that has limited spaces like a small apartment. They are budget friendly as well.
The Nook Pro Solo is a great phone booth pod for those who want to work in peace and quiet in small spaces. It is portable, which makes it easy to move around to and from any room.
The Pro Solo also has sound-reducing features like an acoustic seal and ventilation system that will help minimize distractions from the outside.
Other features include:
Comes with a table, a small shelf and individual seat
Power station with standard and USB electrical outlets
Adjustable user-controlled lighting
Heavy-duty lockable casters
Two ultra-quiet fans that replace the air 1.5 times per minute
3-year warranty
TalkBox Slide
This phone booth style workpod is made to fit in the smallest spaces. The TalkBox Slide gives you optimum privacy and is ideal for home and office use.
Made in the USA, the TalkBox Slide is very roomy inside and has a spacious 18″ x 36″ (45.7cm x 91.4cm) desk. Reasonably priced from $4,495.00, this workpod is also suitable for long work sessions.
Other features include:
Quiet & comfortable ventilation fans
Comes with USB and Standard Power charging station
Large skylights and halo LED lighting
Framery One
Also ideal for one person use, the Framery One is a modern and stylish looking phone booth pod you will love. It is upgradable and you can even design your pod the way you like it!
The Framery One is a smart work pod as it is equipped with the latest technology. The pod also has a cutting edge sound insulation and ventilation system that is ISO certified.
From it's exterior to interior build, it is designed to last. The structure of the pod is fire-proof. Both the seat and table are easily adjustable and comes with a foot rest. There's also the option to choose Framery One without a seat. And if you need to more Framery One around, just add wheels to it.
Other features include:
88.8 in x 47.9 in x 40 in (H, W, D)
Smart touchscreen UI panel to adjust lighting and airflow
Solid walls and roof
Power consumption 30W while in use (default), 6W in standby (fans are working on 25 % of the maximum power)
Final thoughts
Nothing beats working in a quiet, distraction-free atmosphere to get those creative juices flowing. If you've opted to set up a separate workspace for working from home, we hope you've found the ideal office pod from our suggested selection.
Let us know which is your favorite in the comments below. Thanks for reading!
---
Disclosure: YDJ™ and the YDJ Blog is a participant in the Amazon Services LLC Associates Program, an affiliate advertising program designed to provide a way for websites to earn advertising revenues by advertising and linking to Amazon.com. As an Amazon Associate, we earn from qualifying purchases at no cost to you.