How To Boost E-Commerce Sales: 5 Best SEO Strategies
Disclosure: This post may contain affiliate links. We get a commission if you decide to make a purchase through our links, at no cost to you. You can read more about our affiliate disclosure in our privacy policy.
---
If you run an online business, finding and implementing the best strategies to boost your online sales should be your top priority.
There is a lot riding on your e-commerce store. To draw in customers and make as much online sales as you want to, it's time to optimize your site with SEO (search engine optimization).
SEO is the best option in driving traffic to your e-commerce site as it focuses on ranking your website higher on Google. When your site ranks higher, you will see a significant increase in web traffic to your online store. These traffic will generate meaningful leads and eventually bring in more online sales.
In this article, I'm going to cover key strategies to effectively drive traffic to your e-commerce site and boost sales.
How To Boost Your E-commerce Sales?
Here are 5 best SEO strategies that are practically easy to implement on your e-commerce website.
1. Do keyword research and add the targeted keyword in the headline
Adding a well-researched keyword as the main title or headline on your web page will make your e-commerce site more accessible to Google. A more accessible site means more web traffic.
You can use keyword research tools like Google Trends, Neil Patel's Ubbersuggest or Ahrefs to do free keyword research.
Find and compare relevant keywords or keyphrase in your niche that has a higher search query. Then add the target keyword in the headline but be sure to make the title sound natural. This is important to let Google know that your web page has contents users are searching for.
2. Descriptive, original title tags
Title tag is the first impression you will get on your e-commerce site to grab the attention of potential customers. A poorly written title tag can reduce click throughs, which is an element search engines use in ranking your site.
Be sure to give every page on your e-commerce site a separate and unique title tag. This important to prevent search engines from flagging your pages as repetitive or duplicate, which may hurt your site ranking.
Apart from being unique, title tags should be descriptive and matches what the customers are looking for. Take for instance Holdsworth Chocolates' online shop, instead of having product names such as "Holdsworth Gift Box" or "Chocolate Gift Box", they gave a more specific title for their products like "Alcohol Free Chocolate Gift Box 240g". The page makes it easier for customers who are looking for that particular product.
3. Unique product description
Product descriptions have a huge impact on a customer's purchasing decision. Like title tags, a unique and well written product description will simplify a customer's online shopping experience, encouraging them to buy your product.
When writing your product descriptions, consider what information may be the most important from a customer's perspective. Provide value to customers by mentioning for example, various delivery options, a personalised engraving service or other additional benefits that will convince customers to buy.
4. Readable permalinks
A permalink is a URL which when entered into a browser, will take the user directly to your e-commerce site or a specific web page on your site. A strong permalink lets Google know that your web page has related content that matches what people are searching for thus, enabling Google to rank them accordingly.
Although permalinks won't make a significant impact on your rankings, it still needs proper URL structuring. It will allow users to understand what to expect when they click on a permalink and be directed to your web page. This is especially true for your product pages.
Take for example the permalinks below. Which one would you rather click on?
https://www.yourecommerce.com/index.php?page=546589
https://www.yourecommerce.com/alcohol-free-chocolate-gift-box-240g
Permalinks on your web pages can be changed or edited. Consider the best practices below when changing your permalinks:
Make it unique
Include the keyword your web page is optimised for
Keep it simple
Separate words with dashes and not underscore characters
Use lowercase
If your e-commerce site uses WordPress, below is a step-by-step guide on how you can change and optimize your permalinks.
5. E-commerce schema markup
Schemas (often called rich snippets), are used to markup pages so that it can be recognized by search engines. When the right schemas are applied, Google can rely on this markup to improve the display of search results and makes it easier for users to find what they're looking for.
When utilised to its full potential, schemas will help increase the visibility of your webpage in Search Engine Result Pages (SERP).
Some popular schemas that you will normally find in e-commerce websites are:
Product schema – generally include information such as product name, brand name associated with the product, colours, size, dimension, etc.
Price schema – you can include information such as offer price, currency, delivery charges or even indication that your product is on sale for your price schema markups.
Reviews and rating schema – Having reviews and rating displayed can help increase click-throughs (CTRs). If your product has a good rating, they are more likely to get clicked on in search results. So consider adding this schema for your product pages.
Product availability schema – It is frustrating for customers to search for a product, only to find that it is out of stock. They would most probably not consider re-visiting the website again to make future purchases.
Adding a product availability schema on your e-commerce site is a good and ethical practice to keep your potential customers well informed and delight them to make a purchase when your product is in-stock.
Adding schema markups may require some knowledge in HTML coding. If you're not that tech-savvy but wish to implement schema markups, then try Schema Pro. You can have schema markups implemented on all of your web pages fast and easy, without coding.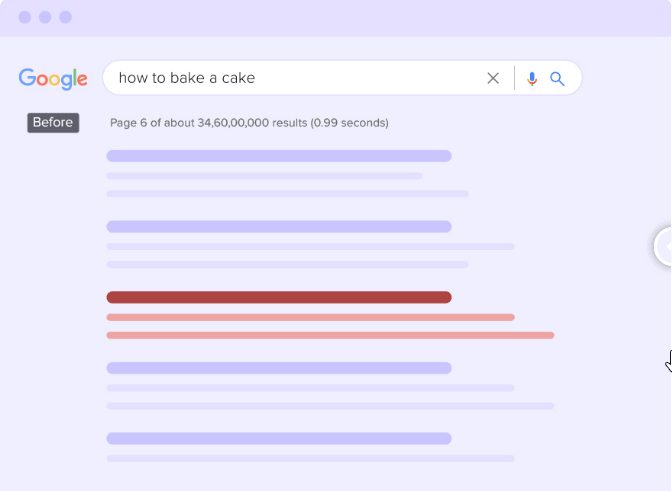 My thoughts: Avoid investing in temporary foundations
The exponential growth of e-commerce sees more online stores growing every day and industry giants like Amazon and Alibaba getting bigger shares of the e-commerce pie. Despite the increasing competition, the growth is good for medium and small e-commerce businesses.
As part of Google's on-going strategy to increase their user base and serve their clients, they have prioritized user experience (UX) and security on their platform.
Google's goals are to rank websites that have answers to all of searchers' questions and are able to provide better user experience via a faster site, better mobile experience and more intuitive interface. Websites that meet their goals get to rank higher.
Online paid ads can only give incredible response to e-commerce sites in the beginning. They are getting costlier and not as reliable as SEO. If you're seeing sales started falling gradually, then that's a sign of a weak foundation.
I've made a mistake of taking little consideration for SEO and relied heavily on paid ads to generate sales for my e-commerce stores. Not knowing how paid ads acutally work, I ended up bearing high costs and not getting the desired ROI that I want. This isn't helpful at all to make my online business grow.
My mistake motivated me to take a different approach in my digital marketing efforts and SEO saved me. It's reliable, free and easy to implement. Once I taught myself how to create a simple SEO campaign, I got thousands of monthly visitors, my web pages started ranking and it didn't fail me. I'm seeing better web traffic results on an on-going basis.
If you're new to e-commerce SEO, then follow the steps I've covered in this article. It will start giving you a league above your competition. Try it out and feel free to share what you've learn from creating your own SEO campaign for your e-commerce store.
Thanks for reading this article!
---